Much like our skin, leather requires regular care and moisturising.
Leather is a natural product and with that comes timeless appeal, durability, and a beautiful patina.
But it won't stay looking its best without maintenance.
As a premium furniture designer and manufacturer, we understand your furniture is an investment and we want you to enjoy the quality and craftsmanship of your designs for many years to come.
This guide details everything you need to know about leather furniture care, including:
How to protect leather furniture from stains and spills

How to remove stains from leather furniture

Advice on the best leather furniture care products

Advice on how often you should condition your leather furniture

Information about natural leather features and what to expect
With this information, you will have the knowledge to keep your favourite leather furniture designs looking and feeling great today and in the future.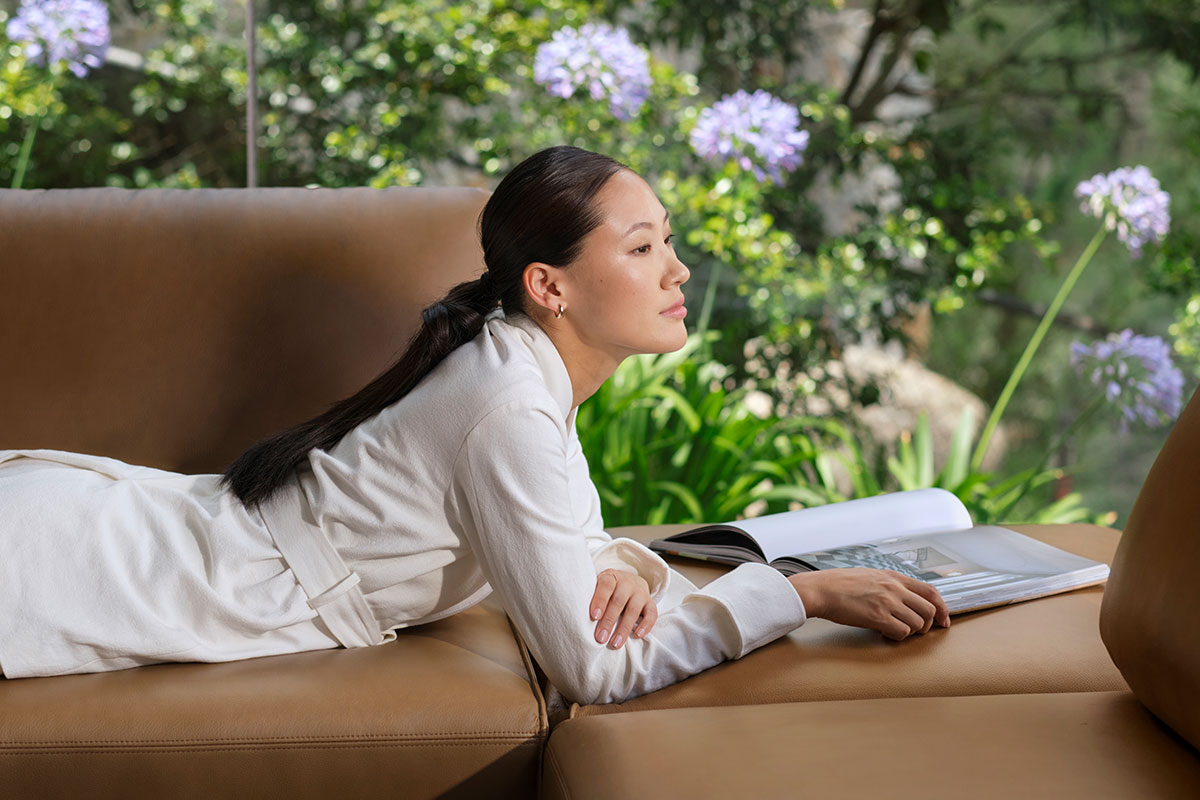 Delta reconfigures effortlessly to suit all interiors and spaces. Pictured in Roma leather in Tan.
How to protect leather furniture from stains and spills
Leather is resilient when it comes to spills, but it is best to act quickly as it can stain.
Simply wipe or dab the spill with a dry cloth and then get to it with a cleaner and conditioner as soon as possible. In many cases, spills, stains and marks that are not cleaned within a few hours can become permanent. With leather, time is your friend.
It is also worth remembering that some leathers in the KING Collection are more resistant to spills than others, depending on how they are coated. You can read our guide about which KING leather is best for you to learn more.
The Seymour Chair and Footstool invites true relaxation.
What leather cleaning products are best?
There are many products on the market designed especially for leather. Your best option is to use products specifically designed for your furniture by the manufacturer you purchased from.
At KING, we offer King-Care® cleaning and conditioning products that are formulated for our furniture, and will clean and protect to maximise the life of your leather. You can purchase a King-Care® Leather Care Kit online or from any KING Showroom.
We recommend you never clean your leather with household cleaners as they are likely to damage the leather surface. This includes everything from detergents, alcohol, chemicals, soaps, shoe polish, wax, window cleaner, silicone, and saddle soap, to any cleaning product not designed specifically for your type of leather.
Crafted using high quality, sustainably sourced timber, the Aspen Bar Stool is shown in True Touch leather in Dark Olive.
How to use the KING Leather Care Kit
The KING Leather Care Kit is a non-toxic biodegradable, water-based solution which is suitable for use on most corrected and aniline leathers. It is not suitable for use on suede, nubuck, oiled or waxed leathers.
Your Leather Care Kit comes with:
Detailed instructions

Leather cleaner

Leather conditioner

Applicator sponge

Microfibre polishing cloth.
Our team will recommend this kit to everyone who purchases leather furniture.
We understand that often products can be offered and added on during a sales process that aren't really needed. However, we stand by the importance of this product – it is vital to have a leather care kit on hand because if an accident happens, you will need to clean it as soon as possible.
Conditioning your leather furniture is also part of maintaining its look and feel.
Reo II in Prestige Palomino leather is the ultimate in sleek luxury and timeless design.

How often should you condition your leather furniture?
Leather is a natural product, and all leathers need to be moisturised.
The frequency you need to condition your leather will depend on its environment and how often you use it. If your leather will be placed closed to heaters or under-floor heating it will require more regular moisturising than leather in cooler temperatures.
As a general rule, we advise applying your King-Care® Leather Cleaner and Conditioner once every 6 to 8 weeks, or as required. Pay special attention to cleaning areas that come in direct contact with skin or hair, including seats, armrests, and headrests.
Be careful not to clean more often than recommended, and to avoid deterioration of the protective surface, avoid vigorous rubbing and never soak your leather.
If in doubt, our Showroom teams and King-Care® team are always available to talk with you about product maintenance and give advice for your specific circumstances.
General leather furniture maintenance advice
In addition to cleaning and conditioning your leather, these are some simple steps you can follow to keep your furniture looking great.
Dust your furniture weekly or use a soft vacuum attachment, to avoid the leather being scratched by loose particles.

Be mindful of sharp or abrasive objects such as shoes, belt buckles, rings and zippers, as these can damage furniture.

Minimise your pet's contact with your furniture as the natural oils and dirt from fur can cause discolouration and unnecessary wear and tear.

Dye transfer from clothes, such as denim, is also possible and ink stains from pens must be attended to quickly to avoid becoming permanent. An ink-away product may assist to remove the mark.

KING also recommends not sitting on furniture when wearing wet swimming costumes and towels, as this can damage the leather.

Professional cleaning on site every 12 to 18 months is highly recommended. Please contact the

King-Care® team

for further information.
Cassia Bar Stools make for an elegant feature in True Touch leather in Dark Olive.
What are the natural features of leather
Leather marking and imperfections
Leather is a natural product made from animal hides.
Part of what makes leather's beauty so sought-after is the imperfections and unique characteristics of each hide – there are no two hides that are the same.
Grain wrinkles, markings, light scratches, and scarring are a sign of genuine, natural leather and not a fault in the product.
However, there are different options available depending what look you are seeking. For example, a full grain leather will retain the character of the original hide, whereas a top grain corrected leather is buffed and printed to mask natural imperfections and provide a uniform finish.
If you would like to learn more our guide to buying the best quality leather furniture can help you cut through the marketing jargon and understand the most common leather types.
Leather stretching and puddling
Living with leather over time is a pleasure. It will adapt itself to your lifestyle and give you a truly personalised feel.
The neat, perfect look your leather has on the day it was delivered won't last. And it's not meant to. All leather ages and develops a patina over time that creates a desirable texture and softness.
It is also completely normal to see wrinkling and stretching when you start to use your leather furniture. This is no cause for concern, and the stretching won't keep happening – it will soon settle and adapt to being used and then begin to develop the character it is designed to have.
If you're concerned about how your sofa looks while the stretching settles, you can move into different seats and move your cushions to even out the process.
Not sure leather is right for you? Read our leather vs fabric article to find out more.
Delta in Roma leather in Tan is the ultimate modular sofa.
Are you ready to take care of your leather?
KING leather sofas are crafted from premium hides sourced from the leading European tanneries. As a luxury product leather requires care and conditioning to keep it looking its best for years to come.
To keep your leather looking its best, remember:
Regularly cleaning and conditioning your leather will keep it soft and fresh.

Over cleaning or poor maintenance can damage the protective layer and cause the leather to deteriorate.

Remove stains as soon as possible.

Only use leather products designed for your furniture.



If you'd like to find out more about choosing the right leather for your sofa read our guide to KING leathers and article on buying quality leather furniture.
You can also purchase a Leather Care Kit online or from your nearest KING Showroom.