Whether you have a formal dining room, an open concept kitchen or a small dining nook, your dining table is a focal point of the space and where you gather with family and friends.
As one of the most integral pieces of furniture in your home, you want your dining table to suit your space and personal aesthetics while bringing comfort, functionality and balance to your home. But, finding the right dining table for your space takes time and consideration—it is not something that should be purchased on impulse.
At KING, our Dining Tables feature quality and durable materials for longevity, while rounded silhouettes and refined finishes bring warmth and comfort to your space. Our tables are designed to age with you and be handed down to future generations.
Given the variety of shapes, sizes, and materials, choosing the right dining table for your space can be challenging. In this article, we will discuss some of the most important factors to consider when purchasing your dining table.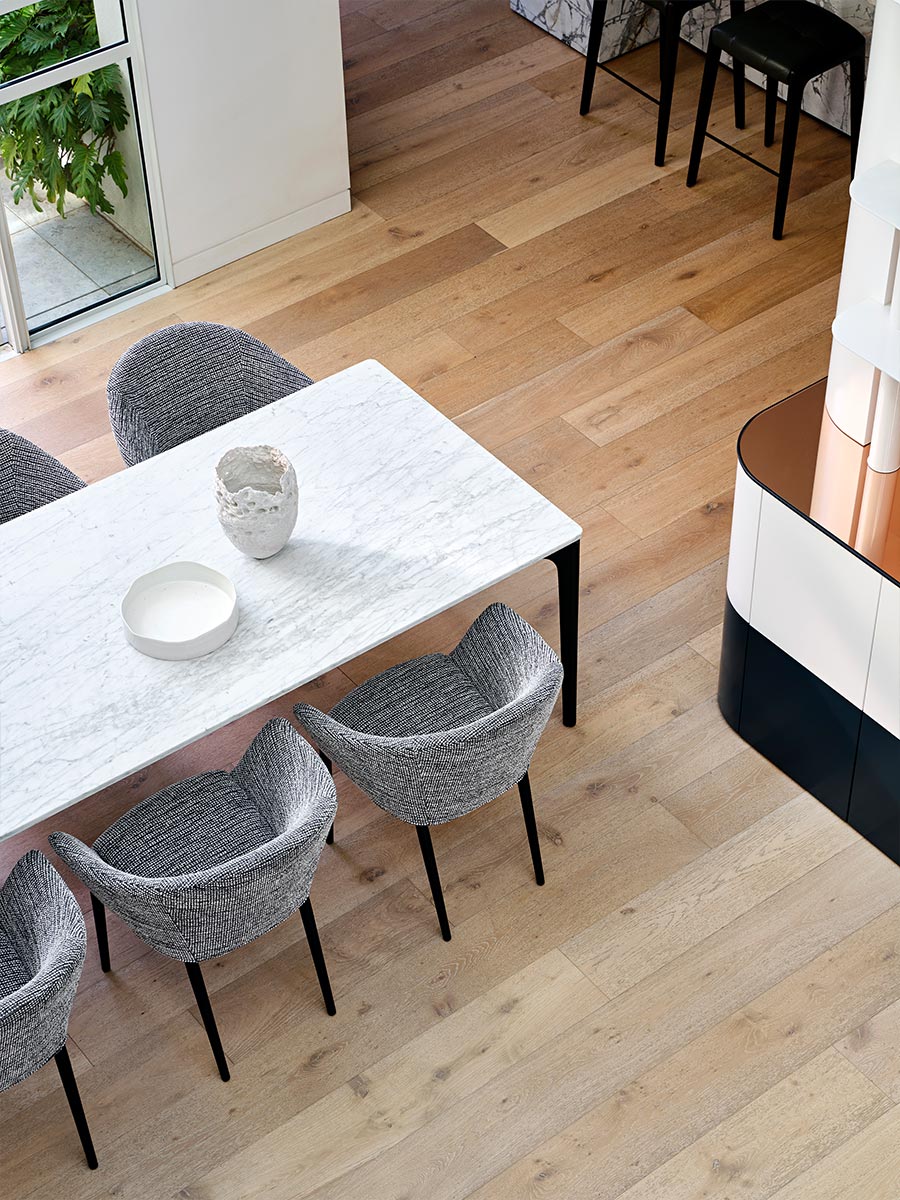 Quay Marble Dining Table paired with Quay Dining Chairs. The sleek rectangle table comfortably fits the space.
Define the function of your dining space
KING Brand Ambassador, Neale Whitaker says understanding how you will use your dining table will help you design your dining space and know what type of table will best suit your home and needs.
"Think about what you really need for your lifestyle...If you love to entertain, then the size of the dining table and choice of chairs is significant. The right furniture enhances our daily lives, but it requires realistic assessment of what we need from it and how we're going to use it." says Neale.
While traditional formal dining rooms are less prevalent in modern homes, the dining table and dining space remain an important focus of contemporary floor plans. Today, the dining table is more than just a place to eat your meals, it is the place for working from home, homework sessions, board games and entertaining friends.
Consider how you will use your dining table in your daily life, will you benefit from an extendable table for Christmas lunches and dinners with friends, will you need to cover a wood table when the kids work on their art projects, or do you have an indoor-outdoor living space and need a versatile indoor-outdoor table?
Knowing how you will use your table is one of the first steps to choosing the right dining table for your home.
Aspen Dining Table and Aspen Dining Chairs in Onyx bring warmth and depth to the space.
How to pick the right size dining table
For a dining table to be right for your home, it needs to fit the space comfortably, but this can be challenging.
A table too small can make the space feel smaller and off-balanced. On the other hand, a dining table that is too large can impede flow and overwhelm the space.
Dining tables can be deceptively larger than assumed. When measuring your space for a table, consider the room needed to pull the chairs out and allow enough room for people to circulate within the dining space. We recommend leaving a minimum clearance of 90 centimetres (35″) between your table and the walls or other furniture if possible.
Leaving space between your table and the walls will give guests enough room to comfortably walk around and get in and out of their seats. When considering table length, allow a minimum of 60 centimetres (23″) of eating space for each guest. While dining tables are typically designed as four, six or eight seaters, this measurement will help you know what size table will comfortably fit your space.
The average height of a dining table is between 71 and 81 centimetres (28 to 32″). The height is important as it determines what chairs will comfortably fit and suit your dining table.
Issho Dining Table in Onyx and Quay Indoor Dining Chair in Whiteley Osprey bring texture and warmth to his dining space. Table styled by Steve Cordony.
Select the right table shape for your space
Is it better to have a round or rectangular dining table?
This is one of the most common questions people ask when looking for a dining table.
Dining tables typically come in a rectangle, square, round or oval shape. While aesthetically, you may gravitate towards certain designs, the size and layout of your dining space will likely dictate the appropriate table shape for your home.
Rectangle tables are the most common table design and will suit most spaces. The rectangular shape paired with the linear forms of your home will create balance and soothing visual symmetry. With a variety of sizes available, rectangle tables are a popular choice for large-scale entertaining.
Square tables work best in square rooms and spaces. Along with creating visual cohesion, square dining tables present an intimate dining experience as everyone sits at a close and conversational distance from one another.
Round tables suit small spaces and typically sit four to six comfortably. A benefit of a round dining table is there are no edges, which effortlessly brings guests closer together. As there is no head of the table, everyone can see one another and converse easily. Additionally, the curved forms create a casual and intimate setting.
Featuring Aspen Six Seater Dining Table in Smoked Oak and Aspen Dining Chairs in Baxter Natural and Smoked Oak, the pairing comfortably fits the space.
Create harmony with the right chairs
A dining table with perfectly curated chairs will maximise harmony in your space.
While dining chairs are available in many styles and materials, scale and comfort are two important factors that determine whether your dining chairs and table are compatible.
It is important your chairs comfortably fit under your table and give guests enough space for their legs. Allow a minimum 20 to 30 centimetres (7.8 to 11.8″) from the seat to the tabletop and avoid overcrowding your table with too many chairs.
Aim to position each chair 15 centimetres (6″) apart. This gives guests enough elbow room and brings balance to the space. If your dining space and table are small, consider armless chairs or only position dining chairs with arms at the head and foot of the table to save space.
Featured above in Marble, the Quay Dining Table is also available in a wood veneer or ceramic finish.
What kind of material is good for your dining table?
Selecting the right dining table material involves considering price, durability, maintenance, style and lifestyle factors.
Quality construction and materials including sustainably sourced wood, marble and ceramic will typically outlast low-cost materials such as MDF board or plywood. While these durable materials may have greater longevity, they are also typically more expensive, which is an important consideration.
Wood tables are often textured, and the variation in the grain and tactile qualities bring warmth to the space. While wood is typically a strong material, we recommend avoiding unsealed wood tables as these are generally harder to keep clean and absorb stains. We recommend using placemats or table dressings to help prevent scratching or damaging your wood table.
Ceramic tables are typically very durable and easy to keep clean. While ceramic can be heavy to move, a ceramic table may be a good choice if you have children or regularly entertain as it is a very durable and low-maintenance material.
Marble tables suit both traditional and contemporary spaces. While marble tables are durable, it is important to know how to care for and maintain the marble—which depends on how the marble is treated or sealed. If the marble is not properly sealed, it will easily absorb stains.
Glass tables are available in a plethora of shapes and sizes. Ideal for small spaces, glass tables allow light to shine through and create a sense of openness. While glass is easy to clean, fingerprints and dust are very noticeable and may require daily cleaning. Glass is also prone to scratches.
Featured above the Issho Dining Table and Amara Dining Chair American Walnut.
Choosing your perfect dining table
A place for eating, entertaining, playing games, and working, your dining table is the foundation for many memorable and meaningful moments.
And, having a comfortable dining table and space where you can enjoy all these moments is one of life's simplest pleasures.
The perfect dining table for you will be one that fits your space, works with your budget, is made of durable materials and brings comfort and functionality to your home. These are some key factors to remember when searching for your dining table.
While there is a lot to consider when buying a dining table, the above information will help you make an informed decision on the size, material and shape.
At KING, we understand the inherent value of the dining space and our designs are inspired by this and the precious moments shared around the table.
Need help finding the perfect dining table? For more inspiration, you can read Neale Whitaker's tips for creating a connected dining space or view our Dining Table Collection.